Regional airline Flybe to axe four Scottish routes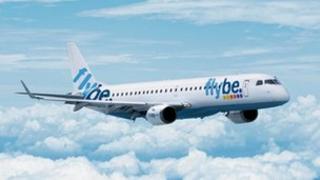 Regional airline Flybe has confirmed it is to axe four of its Scottish routes from next month.
The Exeter-based company said it would drop three Glasgow routes to Paris, Cardiff and Shannon and one Edinburgh service to Knock in Ireland.
The move will leave a total of 28 routes from four Scottish airports in Flybe's summer schedule for 2014.
The airline recently announced plans to cut 500 jobs across the business, as part of a turnaround plan.
Flybe said its services from Glasgow to Paris Charles de Gaulle (via Cardiff) and Cardiff would be withdrawn from 19 January.
Its Glasgow to Shannon route will end on 5 January.
Flybe's summer-only route from Edinburgh to Knock is also being withdrawn.
The airline said passengers affected by the changes would be offered an alternative Flybe flight or a full refund on their ticket.
Its summer schedule retains seven routes from Glasgow, 11 from Edinburgh, six from Inverness and four from Aberdeen.
Overall, Flybe will operate more than 150 routes from 65 UK and European airports next summer, between 30 March and 25 October.
'Long hard look'
Paul Simmons, Flybe's chief commercial officer, said: "We have taken a long hard look at all the routes we fly to and from Scotland to make sure they are what our customers really want and that they operate at the best possible times for everyone.
"The extent of our regional network, with more than 150 routes on sale for next summer, means that no other airline has the regional and onward international connectivity offered by Flybe."
Flybe has been carrying out cost-cutting measures in recent months, but chief executive Saad Hammad said last month that more were needed.
It cut 490 jobs in 2012-13, with a further 100 going in the first half of 2013-14.
Mr Hammad warned in November that some routes could "possibly" go as a result of the cost-cutting programme.