Small growth in retail sales suggests 'cautious' festive spending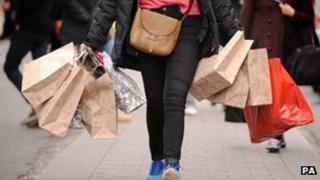 A slight growth in sales last month indicates consumers remain cautious about Christmas spending, retail experts have said.
Sales increased 1.6% compared with November last year, driven by a 2.3% boost in food sales.
Non-food sales were up 1.1%, with clothing and footwear having their strongest performance since July.
The Scottish Retail Consortium (SRC), said its latest figures were "acceptable but unexceptional"
David Martin, head of policy at the SRC, added: "November's figures strengthen the sense that many of us are still cautious and holding off on much of our seasonal spending until Christmas gets closer."
"After a subdued showing earlier in the autumn, fashion's fortunes were reversed by growing demand for warm clothing and boots, making it the month's best performing category.
"Elsewhere in non-food, much of the growth was driven by customers responding well to the deals and discounts ushered in by the Christmas countdown.
"Food had a slight slowdown compared against October, reflecting lower inflation rates and a general trend that many shoppers were focusing on making savings and buying on promotion as far as possible."
Positive sales
November sales growth was lower in Scotland than in the UK where total growth was 2.3% compared with the same period last year.
Like-for-like sales, which leave out factors such as new store openings, were also down 0.6% on the previous year.
David McCorquodale, head of retail at KPMG, said: "At this stage last year we were used to recording negative total sales performance, particularly in the non-food segments. This year, the 12-month averages of food and non-food sales are both positive.
"Despite consumers remaining cash-strapped from the longest recession on record, signs are that this Christmas will be better than last year and that those retailers who have invested smartly in their multi-channel capabilities will grab the share of it from those who haven't."