Scotland's whisky industry 'cutting down on waste'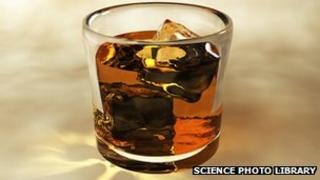 The whisky industry has reduced its waste to only 5% going to landfill, according to a new report.
The environmental strategy said distilleries were producing spirit more efficiently.
While output has increased, there has been a 10% cut in energy use since 2008.
However, the annual audit of distillers also suggested that the industry faces a challenge in cutting back on packaging.
Growing demand for premium whiskies comes with customer expectations of heavier bottles and more packaging.
Less recycled glass and other materials goes into whisky packaging, though almost all of it can be recycled after use.
The audit pointed to 81% of the industry's water use being recycled back into the water system.
The distilling industry used 1.2 million tonnes of malted barley, wheat and maize last year, and 88% of its malted barley was Scottish.
On the use of energy, greenhouse gas emissions have been reduced by 10% between 2008 and 2012, according to to the environmental audit.
That was despite spirit production increasing by 11% to meet rising growing global demand. Renewable energy use reached 16% from 3% in 2008.
The industry cites examples of efforts to reduce its carbon footprint, including a new biomass plant at Glenlossie and a new anaerobic digestion plant at Dailuaine.
Tomatin, near Inverness, is fuelled by wood pellets from forestry waste, while Chivas Brothers is introducing an electric car fleet.
Julie Hesketh-Laird, the Scotch Whisky Association director of operational and technical affairs, said: "Renewables projects in-particular have caught the imagination of the Scotch whisky industry and have attracted multi-million-pound capital investment.
"The industry is committed to sustainability and will continue to work hard to meet its environmental targets."