Scotland's high streets 'thriving or surviving', says study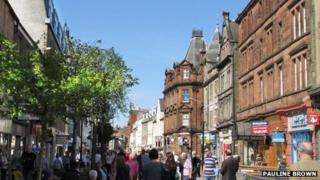 A study of Scotland's shopping streets has found many are thriving while others struggle to survive.
The most detailed research into high street retail showed 14.5% of shops were vacant, slightly higher than Britain as a whole.
In most towns, four in 10 of them had been that way for more than a year.
The Local Data Company, working with Stirling University experts, has shown more than a fifth of towns have more than a fifth of their shops vacant.
By contrast, one in 20 shopping centres had fewer than one in 20 shops vacant. Inverurie in Aberdeenshire was found to have only 2% vacant.
Independent shops
The research failed to find any clear link between problems in high street retailing and local levels of deprivation, though it found that can be a factor.
The highest vacancy rates were in Huntly and Banff, with more than 30% of shop units lying empty, while Inverness was at 18%.
The survey, which covered 100 towns and cities with at least 50 shops, and which looked in more detail at 36 of them, also looked into the mix of independent stores with the multiple chains which are often criticised for dominating too many shopping centres.
Gourock and Perth were among the most varied in terms of independent stores, while the cities Glasgow and Edinburgh had more than half their shops classed as independent. Gretna and Livingston were found to have the smallest share of independent stores.
A comparison with the rest of Britain found only slightly higher levels of multiple chains in Scotland, at 35% of the total.
Ayr and Paisley, as the biggest town shopping centres, had some of the most diverse shopping, and a wider range than the cities of Stirling and Inverness.
The survey also looked into the presence of "less welcome" elements on the high street: charity shops, pawnbrokers, money-lenders, bookmakers and off licences. Together, they made up 6.7% of shops. In the largest 36 centres, charity shops represented one in every 28 shops.
A varied range of towns had a high proportion of these, representing more than one in ten shops across Musselburgh, Greenock, Callander, Airdrie and Dalkeith. Among the seven cities, Aberdeen had the highest share of so-called BMGC (booze, money, gambling and charity), at 4.7%.
The lowest extent of such shops was found in more isolated shopping centres: Kirkwall, Ullapool, Oban and Banff.
Internet sales
Professor Leigh Sparks, of Stirling University, said there were structural changes alongside the economic downturn, "adding to the pace and depth of adjustments needed to the number, type and location of shops".
He said the varied picture from the research should help inform "what we need to do in our towns and cities to make sure we have a successful and suitable retail offer".
Matthew Hopkinson, director at the Local Data Company, commented: "The squeeze on consumer spend, the significance of out-of-town retailing including supermarkets, and the relentless growth of internet sales are all significant issues for Scotland's town centres."
He said balanced town centre economies based around the most appropriate mix of work, retail, daytime and night-time economy were "the keys to survival in the most challenging of times for Scotland's town centres".
David McCorquodale, head of retail at KPMG economic consultants, added: "This data clearly shows that Scottish high streets are polarising between the thriving and the merely surviving. With one in five shops lying empty in 20% of Scottish towns, it is vital we pinpoint and tackle the key issues causing these vacancies.
"There is no quick fix. In most cases it is necessary to reduce the number of shops on the high street and bring back leisure and residential use, to reinvigorate the high street, allowing it to evolve to meet the needs of the modern consumer."