New jobs as meat wholesaler Malcolm Allan relocates to Larbert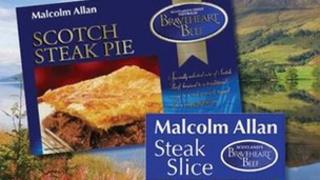 Meat wholesaler Malcolm Allan has created 20 new jobs and launched a new sales drive after moving to a new production base in the Forth Valley.
The announcement follows a £2.9m finance deal arranged with Bank of Scotland.
The firm, which was based in Falkirk, said the new premises in Larbert would allow it to streamline production.
The family business specialises in beef, haggis, black pudding, pies and sausages.
Malcolm Allan is now looking to increase its sales in Scotland "significantly" and target the rest of the UK for the first time in 2014.
The firm was founded by Malcolm Allan in 1954 as a traditional family butchers. By 1990 the company had grown to 20 retail outlets.
In September last year, the company was granted nearly £850,000 in funding under the Food Processing, Marketing and Co-operation (FPMC) scheme to buy a new building and upgrade and install meat processing facilities.
Sales director Gordon Allan said the new premises marked a key point in the company's history.
He said: "Moving our production premises was primarily a result of outgrowing the old site - which is great news for the company as we mark our 60th anniversary in 2014.
"Our new Larbert headquarters is allowing us to significantly increase our production capacity and realise our growth ambitions by delivering a more modern, efficient service.
"It was particularly important to make the move prior to the festive season so we can utilise the extra capacity to deliver the 100% uplift we see on some lines during the festive period.
"In Scotland, Hogmanay is as popular as Christmas so we have the two busiest weeks of the year back to back."