Scottish economy: Slower pace of growth, says Bank of Scotland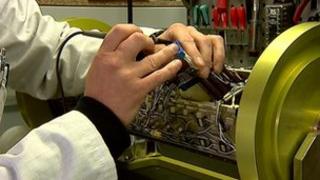 The Scottish private-sector economy is continuing to grow but the pace of growth is declining, a study has said.
The Bank of Scotland's Purchasing Managers' Index (PMI) report for December showed the rise in business activity was the weakest since May.
The bank said the overall PMI at 54.5 remained high, suggesting the economic recovery would continue into 2014.
However, this signalled a slower pace of expansion than observed across the UK as whole.
A PMI of 58.8 has been reported for the UK for December.
In Scotland, employment rose for the thirteenth month in a row but the rate of net job creation was the slowest for eight months.
The figures for December also showed a strengthening of inflationary pressures in Scotland, with both input and output prices rising faster than a month before.
Businesses cited transport costs and utility bills as key factors.
Export drop
The bank reported a dip in new export orders at manufacturers, the sharpest since October 2012.
Some firms attributed the drop to a strengthening of the pound against the currencies of key client markets.
Donald MacRae, chief economist at Bank of Scotland, said: "New manufacturing export orders showed a disappointing fall perhaps due to a strong pound.
"The overall PMI at 54.5 remains high suggesting the recovery in the Scottish economy continued at the end of last year and looks set to persist throughout 2014."
Scotland's finance secretary John Swinney welcomed the "positive end to 2013" and noted that private sector output had expanded for the fifteenth month in a row.
He added: "We also continued to see growth in new orders in service and manufacturing firms, which should help to get 2014 off to a solid start.
"2013 has seen improvements in both output and the jobs market in Scotland but challenges remain.
"That's why there will be no let-up in the Scottish government's determination to secure economic growth through our investment programme in skills and capital projects."
Scottish Labour's finance spokesman Iain Gray said: "These figures illustrate exactly why we cannot be complacent about economic recovery.
"While there continues to be some signs of growth the economy remains fragile with a slowdown in work coming in for businesses and a decrease in export orders."
He said there needed to be a government that would help businesses achieve sustained growth and he claimed the SNP would not deliver this.