Scottish economy grows by 0.7% in third quarter of 2013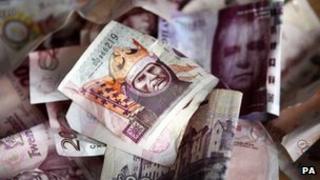 The Scottish economy grew by 0.7% in the third quarter of last year, according to official estimates.
It was the sixth consecutive quarter to show growth north of the border, but was slightly lower than the UK as a whole.
Comparing the quarter with the same period in 2012, Scottish Gross Domestic Product (GDP) grew by 2.1%.
Construction, manufacturing and services all performed strongly between July and September.
Both the services and construction sectors grew by 0.7% while production grew by 0.6%.
Over the year, services grew by 1.8%, construction by 2.8% and production by 3%.
The latest figures were released in the Scottish government's latest GDP statistical bulletin.
'Recovery accelerating'
Finance Secretary John Swinney said: "Today's statistics show further strengthening in Scotland's economy with the recovery accelerating, even against a backdrop of continuing economic challenges.
"Growth in Scotland's economy has increased and strengthened over the last 18 months and this Scottish government will continue to support growth in key areas to boost Scotland's success."
Mr Swinney said it was positive to see growth in the three major sectors of construction, production and services.
He continued: "The increase in continued growth in these sectors ensures that we can continue to help build sustainable economic growth for Scotland which will strengthen our economy and create jobs."
Mr Swinney added that it was "only with the full powers of independence that we can build a wealthier, fairer and economically sustainable Scotland ensuring that everyone benefits from our natural wealth and talent".
Scottish Secretary Alistair Carmichael also welcomed the latest figures, saying they showed Scotland was "firmly on the road to recovery as part of the UK".
He added: "Despite uncertain global conditions it is welcome news to see that Scotland's economy has continued to grow into the second half of 2013.
"This government's long-term economic plan is working and Scotland's economy is successful and stronger as part of the UK with its security, scale and influence.
"The UK government continues to work hard to create a stable platform for sustained growth in our economy benefiting businesses and individuals across Scotland."
The Scottish Chambers of Commerce described the latest statistics as "excellent".
Chief executive Liz Cameron added: "The good news is that growth is widely based across a large number of sectors, although much of the growth remains rooted in increasing levels of consumer demand.
"As we enter 2014, we are looking for increased evidence of rising investment to provide a solid basis for continued growth."