Amber Martinez revealed as new Scottish Widows model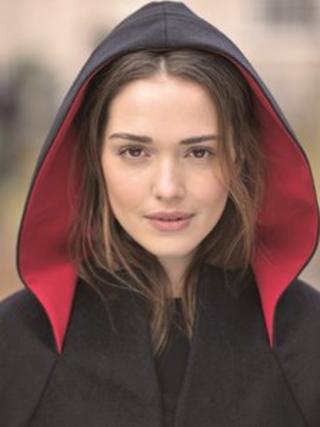 Life and pensions firm Scottish Widows has named the latest model to don the company's trademark cloak.
Cambridge-based Amber Martinez, 24, will feature in a new advertising campaign which launches next month in the run-up to the brand's 200th anniversary next year.
She is the fourth "widow" to wear the iconic cloak over the past 27 years.
Ms Martinez follows predecessors Deborah Moore, Amanda Lamb and Hayley Hunt.
Scottish Widows, which is part of Lloyds Banking Group, said the return of the cloaked widow to TV screens after six years was part of a "brand refresh".
Deborah Moore originated the role in 1986 and later appeared in the Bond movie Die Another Day and the BBC series Sherlock.
Amanda Lamb took over in 1994 and featured in nine advertising campaigns before becoming a television presenter on A Place in the Sun and You Deserve this House.
The cloak was passed to Hayley Hunt in 2005.
Scottish Widows chief executive Toby Strauss said: "The significant investment in our brand demonstrates our continued commitment to be a leader in the life planning and retirement market providing flexible solutions to help all of our customers plan for a secure future.
"Scottish Widows has 200 years of history behind it but has always been very forward looking and the launch of a new Widow signals a new and exciting phase in our journey."
Scottish Widows was established in 1815 as a general fund for securing provisions to widows, sisters and other females during the Napoleonic War.