SSE 'on course' for £1.5bn profit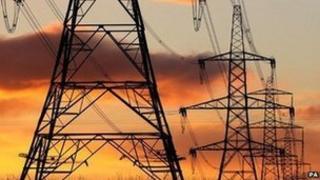 Energy supplier SSE has announced it is on course to make more than £1.5bn in profit this year, despite losing 250,000 gas and electricity customers.
SSE said the number of household accounts in Great Britain and Ireland fell from 9.47 million to 9.22 million in the last nine months of 2013.
Average consumption of gas and electricity by SSE customers also fell, by 9.5% and 4.3% respectively.
However, the firm has forecast an 8.8% increase in its full-year profit.
It also expects a dividend increase for the 12-month period.
In October, Perth-based SSE became the first of the "big six" suppliers to announce an increase in domestic bills, with a rise of 8.2% effective from November.
Earlier this month, the company - which trades as Southern Electric, Swalec and Scottish Hydro - confirmed it would cut its prices from 24 March, following changes to green levies on bills.
It said it would reduce prices by an average of 3.5% for those on dual fuel agreements.
In an interim management statement on Thursday, SSE said it expected to deliver a pre-tax profit of more than £1.53bn for the year.
However, it warned that its five-year capital and investment programme from 2015 was likely to be lower than the £1.5bn-£1.7bn range it has invested each year since 2010.
Wind farms review
It blamed in part the UK government's decision not to include two major proposed offshore wind farms - Galloper and Beatrice - in an early subsidy programme. SSE has a 50% stake in Galloper and a 75% share of Beatrice.
SSE said it would complete "a wide-ranging review" of its offshore wind development portfolio by the end of this financial year before reporting on its conclusions.
SSE chief executive Alistair Phillips-Davies said: "Despite what is clearly a difficult business environment, the overall performance of the company has been solid in 2013/14 and the efforts of employees, shown recently in the response to the Christmas week storms, have been excellent.
"It is encouraging that SSE is on course to deliver real growth in the dividend and increases in adjusted earnings per share and adjusted profit before tax."
He added: "The operating environment is not expected to be any easier in 2014/15 but we have a well-balanced range of businesses and a good range of assets and we are determined to maintain our operational focus and financial discipline for the benefit of customers and investors."
'Very disappointing'
Responding to the management statement, Citizens Advice Scotland (CAS) criticised the decision by SSE to increase payouts to its shareholders, just weeks after increasing fuel bills for customers.
CAS spokeswoman Sarah Beattie-Smith said: "At a time when so many households are still struggling with high bills and public confidence in the energy companies is so low, It's very disappointing that SSE have chosen to put their shareholders ahead of hard-pressed consumers.
"Their customers will find it hard to understand why their bills recently had to increase yet again in order to fund this dividend for share-holders."