Global Energy Services gives notice to 19 apprentices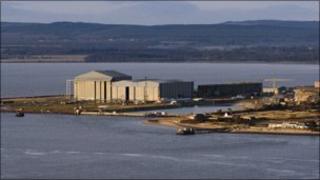 Nineteen apprentices trained under a scheme set up about two years ago with £1m of Scottish government funding have had their contracts terminated.
All had completed their 16 weeks training at the Nigg Skills Academy (NSA) in Easter Ross and were working for Global Energy Services.
It has given them notice after an "unforeseen downturn" in large-scale contracts refurbishing oil rigs.
The firm has described the move as "embarrassing" and "uncomfortable".
Global Energy Services is part of the Global Energy Group.
The group, which owns the Nigg fabrication yard and has offices in Inverness and Aberdeen, said the situation affecting Global Energy Services was separate from the group's wider activities.
The NSA is a not for profit company and offers modern apprenticeship training in fabricating, pipefitting and welding.
Since its launch, it has delivered training to 1,230 people.
Severe delays
The 19 apprentices who have had their contracts terminated are aged between their 20s and 40s.
Most of Global Energy Services' work is involved in repairing rigs at Nigg and Invergordon.
In a statement, the firm said: "We have unfortunately been caught by severe delays in some large-scale contract work.
"These delays were completely unforeseen and yet this does sometimes happen given the cyclical nature of this specialised marketplace.
"As we have had no work since the two major rig projects in Invergordon came to an end last month, it was with great regret, we had to make the extremely difficult and embarrassing decision to serve notice to the trainees leaving Nigg Skills Academy.
"This decision was not taken lightly and is extremely uncomfortable for us."
Global Energy Services said its recruitment team was "working hard" to find employment for the apprentices.
The company said it also hoped to see an upturn in work at the beginning of March and this could open up opportunities for the trainees.