Incentives for oil explorers may be needed, says Deloitte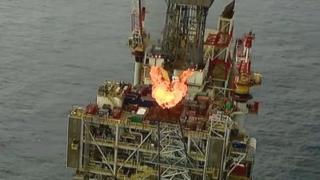 Incentives may be needed to encourage oil and gas firms to explore around the UK after a sharp fall in drilling activity last year, a report has concluded.
Business advisors Deloitte found more fields were brought on-stream on the UK Continental Shelf (UKCS) in 2013.
But exploration and appraisal drilling fell to its lowest level since 2003.
It argued oil and gas companies faced smaller discoveries, increasing costs, a lack of finance and available rigs.
It warned firms may look at Norway as a better option for exploration.
The UK government said it was "doing all it can to ensure the North Sea's full potential is realised".
The fall in exploration drilling contrasted with a rise in the number of fields which began producing oil and gas in the UK last year.
A total of 13 fields were brought on-stream - up from nine in 2012 and the highest number since 2008, when 16 fields began production.
Deloitte suggested oil firms had been encouraged by a range of field tax incentives introduced by the UK government.
Drilling activity
However, only 47 exploration and appraisal wells were drilled on the UKCS in 2013, compared with 65 in 2012.
During the same period, the Norwegian Continental Shelf saw a 41% increase in drilling activity, with 59 exploration and appraisal wells started.
The report stated: "With ever increasing costs, lack of finance, a limit to the number of available rigs and discoveries generally smaller, companies may look at Norway as a more stable, attractive and geologically less mature country to explore."
However, the Deloitte report also pointed out that the UKCS had seen drilling activity from 21 different companies in 2013 and remained "an attractive area for an extensive range of companies, from super-majors to small independents".
Deloitte's Petroleum Services Group managing director, Graham Sadler, said more needed to be done to encourage drilling on the UKCS, including incentives for exploration activity.
'Increased costs'
Mr Sadler added: "Despite the high oil price, margins are tight and the drop in drilling during 2013 most likely reflects the increased costs of operating.
"Staff costs remain high and access to equipment such as rigs, which are limited in number, drives prices upwards.
"Nevertheless, we are seeing evidence that government incentives are helping to stimulate field developments - even historic discoveries - with Chevron's recent announcement that it will start work on the Alder field, which was discovered in the 1970s."
The report also said a record number of applications for North Sea blocks in the 27th licensing round, which led to more than 200 awards last year, showed "positive and continued interest" in the North Sea.
It also highlighted a significant increase in UK field development activity over the previous year.
However, Deloitte energy partner Graham Hollis warned more companies appeared to be "at a crossroads" in their attitude towards the North Sea.
He added: "We have recently seen a number of announcements of significant - and in some instances all-time high - levels of investment in the UKCS.
"However, a number of other companies, some of whom have been key players in the UK sector for many years, have publicly announced or are taking steps that seem to indicate that the North Sea is no longer a core focus for investment within their global portfolios.
"Any longer-term decline in exploration and appraisal drilling will be of concern and there are measures that seriously need to be considered by industry and government to reinvigorate drilling activity and ensure the longevity of the UKCS."
'Record' investment
A spokesman for the Department of Energy and Climate Change said the UK government was "doing all it can to ensure the North Sea's full potential is realised".
He added: "We think that around 20 billion barrels of oil could still be extracted.
"The UK's tax regime has helped support record levels of investment in the North Sea and we are working closely with industry to promote further exploration and development.
"Sir Ian Wood is leading an independent review looking at how we can maximise North Sea oil and gas production. His final recommendations will be published at the end of February".
In a separate development, oil and gas explorer Parkmead Group announced on Tuesday it would make further investments in the North Sea after raising £40m through a share placing.
Its plans include a potential new production well on the Ithaca Energy-owned Athena oil field, in which it has a 30% stake, to extend its life.
Parkmead, which is led by former Dana Petroleum chief executive Tom Cross, is also planning an exploration well at the Skerryvore oil prospect, located between the Flyndre and Clyde Fields, as part of an acceleration of its exploration drilling schedule.