Scotland's retail sales figures show continued growth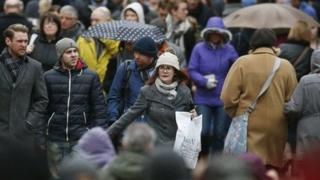 Retail sales in Scotland grew by 1.1% in the fourth quarter of 2013, according to figures from the Scottish government.
The rise in volume of sales represented a 4% increase on the same quarter of 2012.
However, fourth quarter growth was slower than the 1.7% increase for the third quarter of 2013.
Finance Secretary John Swinney said the rise was "a further positive sign of recovery in the Scottish economy".
Commenting on the figures, which were compiled by UK National Statistics, Mr Swinney said: "Today's Retail Sales Index statistics show that retail sales performance has continued to grow over the past year and are a further positive sign of recovery in the Scottish economy.
"Our most recent GDP figures show that over the last 18 months economic growth has improved steadily with growth of 0.7% in the third quarter and strong performances in construction, services and manufacturing.
"Last week's labour market statistics show Scotland's unemployment rate is at a five year low and 90,000 more people were employed than last year."
The figures showing growth in the final quarter of 2013 came despite reports elsewhere that pre-Christmas sales were hit by the bad weather.
Earlier this month, figures from the Scottish Retail Consortium showed total sales in December were 1.1% lower than December 2012.
Mr Swinney added: "With independence future Scottish governments could create a genuinely appropriate set of complementary policies - in relation to taxation, innovation and labour market regulation- to secure stronger levels of economic growth and job creation from which all the people of Scotland could benefit."
A spokesperson for the pro-Union Better Together campaign said: "The nationalists seem to be making the argument that Scotland is doing well and it is all Westminster's fault."
In the 18 September independence referendum, voters will be asked the yes/no question: "Should Scotland be an independent country?"