Coming home to roost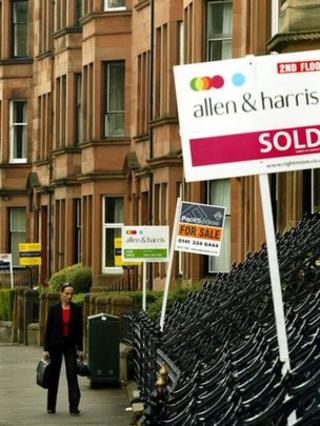 Scotland's housing market appears to be behaving quite well, according to this week's figures.
But while there's nothing approaching the concerns you'll find about another housing bubble in London, there are a few warning signs worth watching.
What the market needed was a big rise in the number of transactions. That's the best measure of a healthy market.
And with Registers of Scotland registering a 26% rise last year, when compared with 2012, then that's a big move in the right direction. It's still a long way short, however, of the number of transactions in the pre-crash years - down from a peak in 2007 of 155,000 to 84,000 last year.
Owners of property also want to see prices rising, and at 3.1% last year, that's a more modest increase, just ahead of headline inflation.
Those who aspire to own property would probably like to see prices falling, to make it easier to get on that housing ladder. And after the peaks of the past decade, you might argue that prices should have fallen further, to level out with earnings and with more responsible lending.
Yet would-be home-owners face a paradox: if prices were to fall far enough to make homes more affordable, could you be sure they'd stop falling once you jump onto that first rung?
A modest amount of inflation, therefore, generates a bit more confidence in the value of the home as an asset, and that's a useful way of getting the churn, or transaction numbers, rising again.
Consumer fuelled
What these numbers do not support is the consumer-fuelled recovery in the economy more widely. It's well established that the recovery owes a lot to consumers, at a time when real earnings have been squeezed (using the measure from the Office for National Statistics, though the Treasury, these days, would prefer you to use another, less squeezed measure).
So it's assumed that the feelgood factor from seeing your main asset's value start to climb again has encouraged people to flex those credit cards with more enthusiasm.
That may work for London, where the latest ONS numbers show house prices up by more than 11% in the year to November. But it is less clear that Scots were responding to home prices: the official statisticians' equivalent for Scotland was a 2.5% annual rise.
This issue throws up at least one issue related to the independence referendum. As warnings are sounded about the need to choke off house price rises in London, for fear of another bubble, the conventional means of doing that would be to use interest rates.
That takes us back to previous decades, before the extraordinary five years with interest rates at 0.5%, when the Bank of England base rate was apparently being set to meet the needs of London and the south-east, at a cost to other parts of the UK. How might that tension be resolved if there were dual national controls of the Bank of England?
For now, there's a much simpler way of choking off price inflation in the expensive south-east, and that's by putting a lower price cap on homes that come under the Help to Buy scheme.
Tilting Scotland
The part of the market that carries warning signs is in the different rates of price inflation or deflation around Scotland. This week's Registers of Scotland figures show 14.9% inflation in East Lothian last year, and 7.9% decline in Inverclyde.
What explains that? It can't be a reflection on the quality of housing, or even the quality of people. Instead, by no coincidence at all, East Lothian has one of the fastest-growing populations among Scottish council areas, and Inverclyde's is falling fastest. It's a symptom of the long-term tilting of the Scottish population, following its economy, from west to east.
But with changing family structures and longer lives, the household composition is what ought to influence the housing market more than total population.
And if you look at the figures from the National Registers of Scotland, taking the examples of Inverclyde and East Lothian, the divergence is striking.
It projects the number of the population will rise between 2010 and 2035 by 10%, but the number of households will rise by 23%.
East Lothian is on course to see 39% more households. That matches Aberdeen, and is beaten only by Edinburgh and by Perth and Kinross, both projected to have 43% growth. Inverclyde, by contrast, will see the number of households fall by 6%.
It's no surprise, then, that the price of homes reflects the expectation that demand and supply will have very different effects between the south bank of the Clyde and the south bank of the Firth of Forth.
Green belt
The figures let you delve deeper to see why this is happening. The official statisticians reckon that single person households in Scotland will have risen between 2010 and 2035 from 37% to 45%. In Inverclyde, it will have reached 50%.
The number of single parent families will have risen by 51%. In Inverclyde, it will be up by only 1%, while in East Lothian, it will be 116% higher.
That different household composition is a challenge for planners, or at least it should be, if they are to direct housebuilders to provide the size and location of houses that people need and want.
It's also a challenge for public policy to make sure Scotland has enough homes, not least to avoid prices in some areas becoming unaffordable.
That's becoming a big issue again for much of England, where changing household composition is accompanied by much faster population growth projections than Scotland. But simply because this is less of a pressured issue in Scotland, it doesn't mean the issue should be neglected.
Indeed, there are already signs of the pressure to ease planning restrictions and push building into areas where it meets local resistance.
As my colleague, Jamie McIvor was reporting on Wednesday, the pressures on green belt land are causing friction on the western side of Edinburgh, while new towns are also planned near Aberdeen and in Lanarkshire.