Lending for house purchases at highest rate since 2008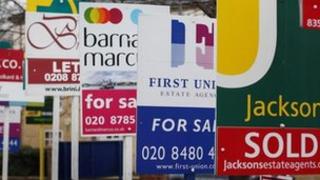 Lending for house purchases in Scotland reached its highest level since 2008 during the last quarter of last year.
Data from the Council of Mortgage Lenders (CML) showed a near 25% rise in lending in Scotland over the last quarter of 2013 in comparison to the same period last year.
Statistics showed that both Scotland and the UK as a whole enjoyed a rise in lending for house purchases.
Experts warned that keeping lending affordable was key to sustained growth.
Lending for house purchase in Scotland increased in the fourth quarter of 2013, with 15,400 loans being approved, up by 3% compared to the year's third quarter and up by 24% compared to the fourth quarter of 2012.
The value of these loans in this period also increased to £1.9bn, up 3% compared to 2013's third quarter and an increase of 30% compared to the fourth quarter of 2012.
Overall in Scotland in 2013, the total number of loans for house purchase was 54,100, up 15% compared to 2012.
The value of these loans in total was £6.5bn, up 19% compared to 2012.
'Very positive'
Responding to the latest statistics, Chief Executive of industry body Homes for Scotland Philip Hogg said: "Today's figures are very positive, particularly in relation to lending to first time buyers who are essential to a healthy and well-functioning housing market.
"Buyers have a range of solutions open to them to help meet their individual needs and home ownership aspirations with the Help to Buy (Scotland) shared equity initiative continuing to have a big impact and a choice of 95% mortgage guarantee schemes also available."
He added: "With both consumer and business confidence growing, our members now look forward to translating this upturn in market demand into the building of much needed new homes, creating jobs and stimulating economic growth.
"However, this will necessitate major supply-side challenges such as improved access to development finance at affordable rates, increased land supply and skills and material shortages to be addressed if output is to increase to the levels required to meet housing need."