Scottish construction industry output rises to £10.7bn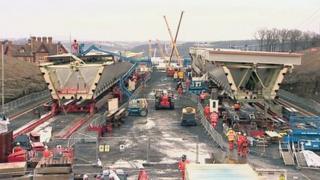 The body which represents Scotland's building industry has welcomed figures which it said showed a 10% growth in output in the past year.
The Office for National Statistics has published construction output figures for the last quarter of 2013.
The strongest growth was in private commercial activity and infrastructure.
But the Scottish Building Federation (SBF) has warned that work and investment must continue to boost the house building sector.
The latest statistics showed an overall rise of almost £1bn in construction output in 2013, taking the total value to £10.7bn.
However, figures for output in the house building sector showed a decline in the value of public sector housing - falling to its lowest level since 2007.
The SBF welcomed the growth in some areas but said work to stimulate the housing market needed to continue and government budgets for affordable housing had to be protected over the next financial year.
SBF managing director Vaughan Hart said: "Recovery in Scotland is being led by government investment in major infrastructure projects such as the Queensferry Crossing and significant growth in the private commercial sector.
"This is a very different recovery to that being experienced south of the border, where house building has been the best-performing sector of the industry.
"The value of housing output in Scotland actually fell by £141m in 2013.
"Over the next year, I hope we will continue to see policies and investment priorities tailored to the particular needs of the Scottish industry."
He added: "There is no sign of a housing bubble north of the border and stimulating recovery in the housing sector must continue to be a key government priority in Scotland."