Testing firm Exova announces £110m flotation move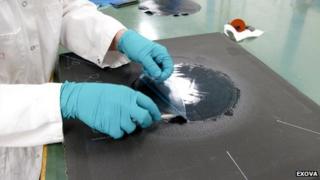 Edinburgh-based testing services firm Exova has announced plans to float on the London Stock Exchange.
The company aims to raise £110m by offering new and existing shares to institutional investors next month.
Exova said the net proceeds would be used to reduce the group's outstanding borrowings.
The company runs 117 laboratories in 22 countries worldwide, providing testing services for a range of materials, components, products and systems.
Its work includes testing the performance of materials - such as carbon composites - used in the construction of airliners.
Earlier this week Exova won a major contract with Swedish defence officials worth a potential £24.5m over seven years.
The contract will see experts from Exova act as consultants to the Swedish Defence Authority in areas such as composite repair technology and polymer bonding and sealing technology.
'Clear strategy'
The flotation announcement came as the company reported a rise in revenues and pre-tax profits for the year to the end of December.
Its revenues rose 10% to £279m, while adjusted earnings before interest and tax were up 15.1%.
Exova chief executive Ian El-Mokadem said: "We are widely recognised as a leader in our chosen markets.
"Our clear and distinctive strategy of focusing on the provision of laboratory-based testing and closely related services has enabled us to become a faster growing and more dynamic company.
"We are now well placed to respond to increasing regulatory demands, our customers' requirements for innovation, and growth in our end markets."
Exova employs more than 3,600 people throughout Europe, the Americas, the Middle East and Asia/Asia Pacific.