Skilled jobs boost as Howco Group expands in Irvine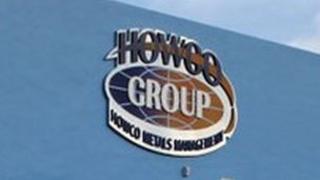 Oil and gas service company Howco Group has announced plans to expand its North Ayrshire premises and create 67 jobs.
A total of £7.5m is being invested in the specialised steels and equipment producer's Irvine base.
The expansion is being supported by a £750,000 Regional Selective Assistance grant from Scottish Enterprise.
The investment will bring the total number of jobs across the company's Aberdeen, Cumbernauld, Glasgow and Irvine sites to more than 360.
The company, which currently employs nine apprentices at its Scottish sites, also said it could create a further eight placements in the coming months.
Howco is owned by Japanese company Sumitomo Corporation.
'Strong position'
Steve Hoggan, manufacturing director at Howco, said: "Our primary market in the oil and gas sector is forecast to grow strongly over the next three to five years, both in the UK and overseas.
"Our worldwide reputation as market leaders places us in a strong position to capture a share of that growth and by investing in our facilities and our workforce we can maintain and grow our market share."
He added: "With the additional capacity from the project, we anticipate turnover almost doubling within the next five years."
'Excellent news'
Visiting the company's manufacturing facility after the Scottish government's Cabinet meeting in Irvine, First Minister Alex Salmond said: "The creation of this number of highly skilled jobs is excellent news for North Ayrshire.
"This is a tribute to the success of the team here at the Drybridge site, supported and enabled by Scottish Enterprise, and North Ayrshire Council.
"The fact that the company is so supportive of training by offering apprenticeships is also to be welcomed."
Mr Salmond also announced a separate £1.7m funding package to support jobs and regeneration in Irvine and the surrounding area.
It includes £1.6m for Irvine Bay Regeneration Company to help encourage more business to the area.
The funding will also support Irvine Bay's plans to install a big screen in the Bridgegate area to celebrate events such as the Glasgow 2014 Commonwealth Games.