North Sea oil explorer Parkmead achieves maiden profit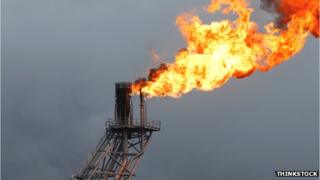 Growing oil and gas explorer Parkmead Group has announced a maiden pre-tax profit.
The Aberdeen-based company said it made a profit of £3.1m in the six months to the end of December.
Parkhead said major production growth was achieved through the acquisition of Lochard Energy Group and a trebling of oil production from the Athena field.
Revenue increased by 395% to £9.9m, while Parkmead's total assets grew by 104% to £81.5m.
In the second half of last year, the company was awarded five more oil and gas blocks in the UK Continental Shelf (UKCS), resulting in a total award of 30 blocks across the North Sea, West of Scotland and West of Shetlands.
Parkmead is now preparing "multiple" applications for new licences in the UKCS 28th Licensing Round.
In February, the explorer raised about £40m in an equity issue to fund further growth.
Parkmead executive chairman Tom Cross said: "I am delighted to report excellent progress in the period to 31 December 2013.
"Parkmead has significantly increased its oil and gas production, delivering enhanced cash flow to the group."