Johnston Press sells all of its Irish titles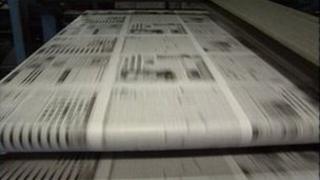 Newspaper and online publisher Johnston Press is selling its 14 regional titles in the Irish Republic for £7.2m.
Johnston said it had agreed to sell Formpress Publishing, which holds the trade and assets of its Irish operations, to Iconic Newspapers.
The deal means Johnston will have no trading operations in Ireland, but will retain some property interests.
The group will continue to provide printing facilities to Iconic Newspapers for an unspecified period.
Johnston is retaining its Northern Irish titles, including The Newsletter and Derry Journal, which are also sold in the Republic.
The Irish titles which are being sold include the Leinster Leader, the Donegal Democrat, the Limerick Leader and the Kilkenny People.
'In best interests'
Ashley Highfield, chief executive of Edinburgh-based Johnston, said: "The disposal of our trade and assets in the Republic of Ireland will increase our ability to focus on the growth of our business in the United Kingdom and in particular our digital initiatives, in line with our stated strategy.
"We believe that it is in the group's best interests to dedicate our resources to these opportunities."
At the end of March the group reported a pre-tax loss of nearly £287m for last year.
The group attributed the loss to exceptional items such as restructuring costs and a writedown in asset values.
However, Johnston also reported the first positive year-on-year growth in underlying operating profit for seven years.