'Record' March for new car registrations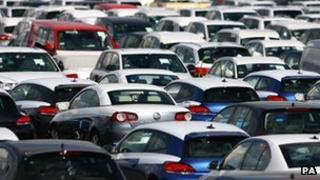 Scottish motor traders enjoyed a record March as new car sales surged by nearly 15%, according to industry figures.
The Society of Motor Manufacturers and Traders said there were more than 43,700 new registrations last month, compared with 38,089 in the same period last year.
Last month beat the previous March record of 40,954 set in 2004.
The UK as a whole recorded a year-on-year increase of 17.7%, with 464,824 units sold.
Vauxhall was the best selling marque in Scotland in March, followed by Ford, Volkswagen and then Audi.
Douglas Robertson, chief executive of the Scottish Motor Trade Association, said: "We are very pleased with these March figures following the small dip in February.
"We believe these figures confirm consumers' awareness of the extremely attractive finance deals now available and the immensely attractive range of new cars now on the market.
"As we have said before the cost of running a new car is often less than that of running an older car and, as confidence returns, consumers are becoming more aware of this."
He added: "Whilst we do expect a positive market for the remainder of the year, we would hesitate to project a continuation of the 12.09% increase we have seen in the first quarter."