Faroe Petroleum shares up on Norwegian well successes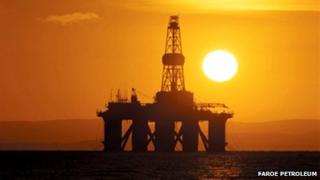 Shares in Faroe Petroleum have risen sharply after the oil and gas explorer announced two well successes in the Norwegian Sea.
The Aberdeen-based company said it had made a gas and condensate discovery in the Solberg well.
Faroe also reported a successful drill test on the Pil exploration well, which showed a stable flow of 6,710 barrels of oil per day.
The explorer has a 20% stake in Solberg and 25% share in Pil.
Faroe's share price rose by more than 10% in early trading.
The company said the preliminary resource estimate for the discovery at Solberg was in the range of six to 25 million barrels of oil equivalent.
The well was started in February to assess the size of the neighbouring Rodriguez discovery announced by Faroe in January of last year.
Faroe said reservoir channels encountered in both wells were likely to extend northwards into the Milagro licence, in which Faroe has a 30% share.
'Clear vindication'
Faroe chief executive Graham Stewart said: "We will now work together with our licence partners to assess the total volumetric potential across Rodriguez, Solberg and Milagro to assess their combined commercial potential.
"Together with our notable recent discoveries on Snilehorn and Pil, Faroe's exploration successes provide clear vindication of our long-standing strategy to take material stakes in high-impact exploration prospects offering significant value to our shareholders."
Faroe Petroleum is quoted on the AIM market and has offices in Aberdeen, Stavanger, London and Torshavn.
It has a portfolio of exploration, appraisal, development and production assets across the Atlantic margin, the UK and Norwegian North Sea, Norwegian Sea, Barents Sea and offshore Iceland.