Employment up as economy strengthens, PMI report says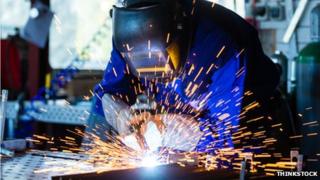 Firms in Scotland took on more staff last month as the Scottish economy continued to gather strength, according to a survey of purchasing managers.
The Bank of Scotland PMI report suggested there were rises in output and new business, while backlogs grew.
The survey also found growth was broad-based across both manufacturing and service industries in March.
The bank said it was another month of expansion which further embedded the growing recovery.
Bolstered by improving business conditions, employment rose for the 16th month in a row.
Although less marked than February's survey record, it grew at the second-fastest rate since the survey began in 1998.
Private sector purchasing managers also reported a cooling of inflationary pressures as both input and output prices rose at slower rates.
Manufacturing growth
Manufacturing output growth rebounded from the "modest" rate seen in February, although remained slightly slower than January's high.
Factory production has now increased in 11 of the past 12 months.
However, new export orders at manufacturers declined for a second straight month.
The PMI index - which measures business activity on a month-to-month basis - rose slightly in March to 56.4.
Any figure above 50 indicates expansion.
According to the survey, March's increase in business activity was underpinned by another "solid" increase in the amount of new business.
Survey panel members also suggested new work inflows were being "positively influenced" by growth in the housing market.
Bank of Scotland chief economist Donald MacRae said: "The March PMI signalled further strong growth of business activity across both manufacturing and service sectors.
"Not only did the level of new orders increase but employment rose for the 16th month in a row, while cost pressures eased.
"New export orders fell for the second consecutive month illustrating the challenge of improving our trade performance."
He added: "The Scottish economy has added another month of expansion, further embedding the growing recovery."
Last month a survey by accountants BDO suggested economic activity in Scotland could surpass pre-recession levels by July.
BDO said confidence had improved across all sectors of the economy, with firms optimistic about the rest of the year.
However, experts have warned that a continuing skills shortage could slow the recovery. ‬