Glasgow Fort expansion 'may lead to 500 jobs'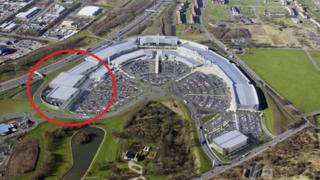 Contractors have started work on a £45m construction project which developers said could lead to 500 jobs being created at one of Glasgow's largest shopping centres.
Five new retail units and a restaurant are due to be built at Glasgow Fort Shopping Park over the next 12 months.
The 112,000 sq ft development will include a new Marks & Spencer store.
Glasgow Fort stands next to the M8 near Easterhouse and already has nearly 100 outlets, including Zara, H&M and Next.
Developers said they expected about 500 posts to be created at the new stores and restaurant, once the build was completed.
Glasgow Fort manager Phil Goodman said: "We are delighted that this much-anticipated development has now started.
"Marks & Spencer is a fantastic name to add to our list of stores and we are confident it will be a major draw for people visiting the park.
"We are committed to supporting the local community and economy and providing meaningful support through schemes such as our tie-up with Jobs and Business Glasgow for access to employment."
Jobs and Business Glasgow is an arm's length company tied to Glasgow City Council which aims to boost local economic development activity.