Scottish Retail Consortium: Decline in footfall slows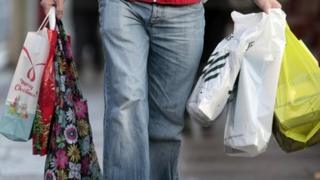 The recent decline in shopper numbers in Scotland has slowed significantly, according to figures released by retailers.
The number of people hitting the shops in March fell by 2.1%, compared with the same period last year.
However, this was an improvement on the 4.1% decline recorded by the Scottish Retail Consortium (SRC) and retail analyst Springboard in February.
SRC said the numbers were "moving in the right direction".
However, Scotland continued to lag behind the UK, which saw shopper numbers increase by an average of 1.8% in March.
Footfall was up 2.4% in Northern Ireland but down 2.7% in Wales.
'Encouraging signs'
SRC head of policy David Martin said: "We have seen encouraging signs of improvement in shopper numbers in March. The decline in footfall reported in recent months has slowed significantly.
"We are still to see much, if any, of the economic recovery translate into higher levels of confidence or propensity to spend in Scotland.
"With Scottish sales figures out next week, retailers will be hoping that improved levels of footfall in March has translated into more transactions and that this momentum can be maintained over the Easter period."
Diane Wehrle, retail insights director at Springboard, added: "Scotland continues to face challenges in increasing customer activity to its retail destinations, with footfall underperforming the UK for the third month in a row."