Confidence continuing to return to businesses, report says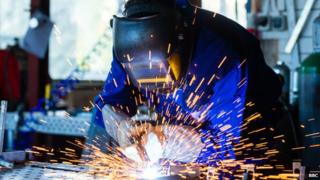 Scotland's economic performance has returned to pre-recession levels, according to a report.
The Scottish Chambers of Commerce (SCC) said the economy grew, investment and activity increased and business optimism rose in the first three months of the year.
But the chambers warned that "challenges still remain", despite the positive indicators.
The report looked at trends from all areas of the Scottish economy.
It found that almost all key balances had now returned to 2007 pre-recession levels.
Confidence among manufacturing, construction and tourism firms continued to improve, but there was a decline among retailers.
Manufacturing orders continued to rise with a notable increase in export orders, and construction orders improved again with 85% reporting that new contracts had either remained constant or increased.
The report highlighted that the retail sector expected to report a drop in profits during 2014, which suggested that consumers were still not fully confident in the strength of the economy's recovery.
Confidence levels among hotels remained high and there was a rise in the use of conference facilities.
And manufacturing investment plans were at their highest level since the end of 2007, although retail and construction investment plans remained low.
The report found expectations for most key balances remained strong, and employment trends held up with at least 80% of businesses looking at either retaining their workforce or recruiting within the next three months.
Fewer than 14% of businesses said they had reduced staff in the previous three months.
Skills shortages
SCC chief executive Liz Cameron, she said: "The hard work and determination of Scottish businesses is yielding positive outcomes for the growth of Scotland's economy.
"All the indicators in this survey point to sustained economic growth as key sectors increase investment to expand activity, boosted by higher levels of business optimism."
But Ms Cameron said the issue of skills shortages was becoming more prominent as businesses looked to expand and invest.
She added: "Businesses in the manufacturing sector are reporting difficulties in recruiting skilled and technical staff and the tourism sector are also reporting difficulties in recruiting managerial staff and chefs.
"It is vital that the organisations responsible for the development of skills provision, actively work with the business community to ensure employees are provided with the skills required to succeed."
She also called on the Scottish and UK governments to help businesses access affordable finance, and to take advantage of global trade opportunities.
Scottish Finance Secretary John Swinney said the report, which followed recent Labour market and GDP statistics, suggested "recovery in Scotland's economy is continuing to make headway, but there is no room for complacency."
Scotland Office Minister David Mundell said the economic recovery was "becoming more embedded" but there was "still much work to be done".