Martin Currie report second pre-tax loss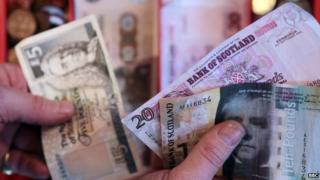 Martin Currie, the Edinburgh-based asset manager, has reported a second pre-tax loss in a report made available by Companies House.
The group's accounts show a statutory pre-tax loss of £1.65m compared to a £15.6m loss in 2012.
Despite the loss, the firm described the figures as a "considerable improvement".
The report also shows a £9.4m loss on ordinary activities in 2012 was turned around to a £4.8m profit last year.
The difference between the two measures was explained as being down to to "exceptional costs and accounting adjustments".
As well as this increase, cash generation from operations last year was £2.6m after an outflow of cash of more than £10m in a very bad 2012.
This was described by Martin Currie's finance director as "the most meaningful metric of the company's financial performance".
Increased revenue
Assets under management, on average, rose from £4.7bn to £5.3bn. From the end of 2012 to the end of 2013, there was a rise of £819m. Revenue was strongly up from £34m to £50m.
A large regulatory fine received for problems in its Chinese investments was blamed for the revenue being below the 2011 figure of £65m.
But while there are significant improvements on 2012, the company has only gone part of the way to recovering from what was believed to be its first loss in 130 years.
Assets under management are still nearly £3bn below the £8.2bn level the company held at the end of 2011.
Martin Currie's accounts filing lists the Scottish independence referendum as one of its "strategic risks", including uncertainties over regulation, personal tax, currency and European Union membership.
It says it has a corporate policy of political neutrality.
A statement by joint chairmen David Shearer and Richard DeMartini said the company already operates across several regulatory and legislative regimes around the world: "Regardless of any constitutional change which may take place in Scotland, we are well positioned to be able to adapt and our main priority remains to continue to serve our clients globally."
The parent company, Martin Currie (Holdings) Ltd, is registered in Bermuda.