Oil and gas industry 'worth £35bn annually' to UK economy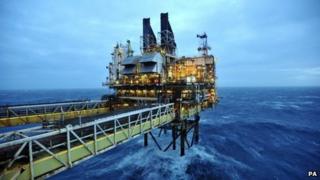 The oil and gas industry is worth about £35bn to the UK economy, according to a new study.
The research, commissioned by industry body Oil and Gas UK, found more than 3,000 companies were directly involved in the industry.
The number of people employed by UK firms grew by more than 20,000 in the four years to 2012.
The report said a key challenge was the availability of skilled and experienced workers.
It also suggested the industry needs to increase exports to sustain growth.
'Robust outlook'
The Ernst and Young report states: "The era of cheap, easy oil may be over but the global demand for oil and gas remains high.
"In a world of sustained high oil prices but declining production, the outlook for the oilfield services industry is robust.
"Using technology to reduce costs and extend the life of conventional production, for example through enhanced oil recovery techniques, will be critical to future commercial success.
"The UK oilfield services sector is already a global leader and there are significant opportunities, both at home and overseas, for the sector to continue going from strength to strength."
It adds: "Attracting new talent to join the industry is vital for the future of the industry, with many schemes already in place to target skilled personnel from outside the sector, as well as encouraging school leavers and graduates to join the sector."