Buccleuch Group reports pre-tax loss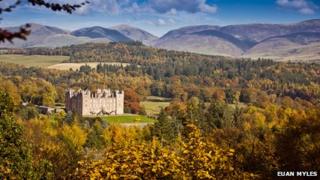 One of Scotland's biggest private landowners, Buccleuch Group, has reported a pre-tax loss for last year of nearly £575,000.
The Borders-based company also reported a £5.7m fall in group turnover to just under £31m.
However, Buccleuch said "considerable progress" lay behind the figures.
The group, which employs nearly 250 people full-time, made a modest profit after tax of £31,000 for the year to the end of October.
Its interests include property investment, mining and traditional sporting estate activities.
Buccleuch's portfolio includes 11,000 hectares of woodland, more than 1,000 properties and 200 farms spread largely across the south of Scotland.
In its latest annual accounts, Buccleuch reported it had reduced its debt by a further £4m as part of an ongoing debt reduction drive.
Commercial property
The group, which is headed by the 10th Duke of Buccleuch and Queensberry, said commercial property market conditions had slowly improved over the course of 2013 and confidence in the sector had started to return.
It added: "Consequently, we achieved better-than-targeted returns on our investment portfolio due to continued improvements in our portfolio of property and tenants.
"For the first time since the beginning of the recession, our portfolio saw modest positive revaluations."
On energy, Buccleuch said proposals to extract coalbed methane from a site on its Langholm Estate were still in early stages of development.
It added: "Opportunities to extract coalbed methane in partnership with Dart Energy have not progressed, as we have sought to obtain further comfort that this resource can be extracted safely and sensitively.
"We continue to work with community representatives and government, at local and national level, to address legitimate environmental concerns and, for the sake of clarity, until such time as those concerns have been addressed, it is not our intention to use hydraulic fracking.
"We remain convinced, however, that subject to further test drilling, this represents a significant development opportunity for Scotland."
In an update on its hospitality and tourism activities, Buccleuch reported that after two "very poor" summers, visitor numbers across its four estates had risen but remained "modest".