Scottish independence: BBC 'considering' resigning CBI membership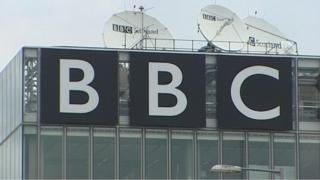 The BBC is considering a call from the National Union of Journalists to resign immediately from the Confederation of British Industry (CBI).
The business group had registered as an official backer for a "No" vote in the forthcoming referendum, but it is now trying to reverse that decision.
The BBC had already suspended its membership during the campaign period.
The corporation is now saying it will consider resigning its membership, which costs £22,191.94 per year.
BBC Scotland journalists said at a meeting of NUJ members on Monday they were worried that CBI affiliation could damage public perceptions about the BBC's impartiality.
The CBI had registered with the Electoral Commission as a campaigner for the pro-Union Better Together campaign. It is now seeking to nullify that registration.
The NUJ wrote to the BBC's director general Lord Hall urging him to reconsider the broadcaster's stance, and resign before the official campaign period, which begins on 30 May.
Universities and quangos
The BBC said it would respond to the NUJ "in due course".
The corporation said it had been a member "since at least 1980" and its membership was linked to investment in development and training in the creative industries.
Two days after the CBI's bid to nullify its pro-Union registration, the body's Scottish director, Iain McMillan, announced he would step down later in the year.
The CBI denied any link between the referendum issue and his retirement.
A number of organisations, including universities, several quangos, the Law Society of Scotland and two businesses - Aquamarine Power and Balhousie Care Group - left the organisation after the official "No" backing.
Voters in Scotland go to the polls on 18 September when they will be asked the "Yes/No" question: "Should Scotland be an independent country?"