Scottish youth unemployment 'above UK rate'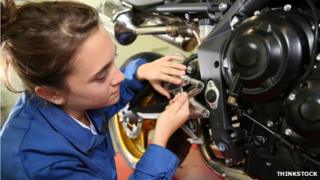 Scotland's youth unemployment rate was slightly higher than the United Kingdom as a whole last year, according to new estimates.
The rate north of the border stood at 20.6%, which was 0.5% higher than the UK.
Figures released by Scotland's chief statistician also showed youth unemployment - which covers 16 to 24-year-olds - has risen by 7% since 2008.
This compares with a 5.1% increase for the UK over the same period.
The local area labour market statistics are based on the Annual Population Survey (APS).
They showed overall unemployment falling last year in 21 council areas in Scotland, with 10 of the remaining authorities seeing increases and one seeing no change.
The largest falls were in Inverclyde (-4.1%), South Ayrshire (-1.7%) and East Dunbartonshire (-1.2%), while the biggest increases were in South Lanarkshire (+1.7%), West Lothian (+0.9%) and North Ayrshire (+0.8%).
'Challenging circumstances'
A total of 20 local authorities saw increases in their employment rates over the year, but 29 councils recorded falls between 2008 and 2013.
The chief statistician said this reflected "the continuing challenging economic circumstances".
The employment rate in Scotland varied considerably between local authorities, from 60.1% in North Ayrshire to 83.2% in the Shetland Islands.
This compared with an employment rate of 71% in Scotland, based on APS data.
The city of Dundee saw the biggest fall in the employment rate among council areas, dropping 3.9% over the year to 61.4%.
The gap between overall male and female employment rates last year was 6.9%, the lowest seen since 2004 and 3.2% lower than that for the UK as a whole.
The employment level for females aged 16 years old and over in 2013 was just under 1.2 million - up by 15,800 over the year and the highest level seen from the APS since the period April 2008 to March 2009.
Women's employment
Responding to the figures, Youth and Women's Employment Secretary Angela Constance said they showed that employment prospects were improving across much of Scotland, with women's employment driving much of this improvement.
She said: "With the survey also showing that over 91% of all adults holding a Modern Apprenticeship were in employment, we remain committed to supporting even more young people towards jobs through MAs, the Youth Employment Scotland Fund and a variety of other programmes."
She added: "While employment rates remain far too low in some areas, it is encouraging that Glasgow has seen an increase of 3.6% in its employment rate in the last year.
"We will continue to work with areas including Dundee and North Ayrshire to identify what more can be done to help drive a stronger economic recovery and narrow the gap in employment rates between areas across Scotland."
Commenting on the data, Labour MSP Jenny Marra said: "These statistics show just how difficult the recession has been for everyone, but particularly young Scots.
"Youth unemployment remains higher than it was in 2008 and is higher in Scotland than in the rest of the UK.
"That isn't a record for which the Scottish government should be proud."