Johnston Press unveils £360m refinancing plan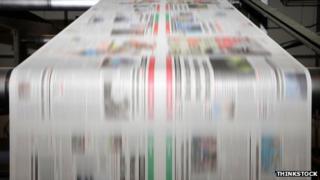 Newspaper and online publisher Johnston Press has unveiled a £360m refinancing plan in a bid to pay off debt and fund future growth.
The Edinburgh-based company aims to raise £140m through share issues and placings and issue £220m worth of bonds.
In December Johnston's lenders agreed to give the company more time to repay its £300m debt.
The move allowed it to pursue a refinancing of its debt facilities.
Following the refinancing announcement, shares in the company fell 25% to 17.53 pence in early trading,
Johnston runs more than 200 regional papers across the country, including titles such as The Scotsman and the Yorkshire Post.
'Key milestone'
Chief executive Ashley Highfield described the refinancing package as "another key milestone" for the company.
He said: "Johnston Press has already achieved much in turning around our business performance, with 2013 marking a return to underlying operating profit growth for the first time in seven years.
"The capital refinancing plan will also facilitate, and allow the group to continue to focus its efforts on the ongoing implementation of the future strategy."
Mr Highfield added that the refinancing plan would help provide a platform from which the group could "return to overall revenue growth and generate increased surplus cash flow with a view to further deleveraging the group and re-investing some of that surplus cash to grow its digital presence further".
The announcement came as Johnston reported a "mid-single digit" percentage decline in group revenues in the 17 weeks to 26 April.
Revenues were hit by lower circulation and print advertising revenue.
However, digital revenue rose during the same period.
Sky partnership
In a separate development, the publisher announced a regional advertising partnership with British Sky Broadcasting Group.
Under the agreement, the broadcaster will make its new Sky AdSmart product available to parts of the Johnston Press sales network.
Sky AdSmart tailors what is shown in TV advertising breaks, according to a household's location and profile.
Mr Highfield said: "Johnston Press has been focused on its vision to become a truly multimedia business over the last two years.
"This agreement with Sky is testament to the platform we have put in place.
"That Sky has further demonstrated its conviction in our strategy by investing in our business is particularly encouraging."