Local service closures 'hurting towns'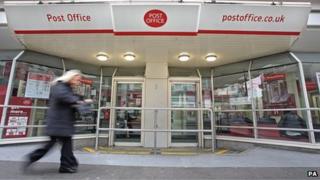 Almost 100 Scottish towns and cities are facing or have been hit with the closure of a local service because of big business and public sector reorganisations, a report has claimed.
The Federation of Small Businesses (FSB) said banks and public bodies either have closed, or plan to close, services or shut local buildings.
Examples included Clydesdale and RBS branches, post offices and tax centres.
FSB warned the closures would disrupt efforts to rejuvenate local economies.
The Scottish government said it was "determined that our town centres should be vibrant, attractive and safe places".
Branch closures
In March, Clydesdale Bank said it would close a number of "unsustainable" branches in Scotland by the end of this year as part of plans to reshape its retail banking operations.
The following month, Royal Bank of Scotland announced it was closing 44 branches across the UK, including a number in Scotland.
FSB said high streets had also been hit by a decision by the UK tax authority, HMRC, to close all of its 281 enquiry centres in the UK.
Scottish court and post office closures, as well as the shutting of dozens of police station front counters, have also concerned the small business lobby group.
Colin Borland, the FSB's head of external affairs in Scotland, said: "Over the last few years, we've seen large public and private bodies evaluate their operations and come to the same conclusion - they can no longer afford to operate at the same level in towns and high streets across Scotland.
"We are concerned about this trend and are encouraging those in charge to consider the cumulative impact of their decisions on local economies.
"We also fear that colleges, the Ministry of Defence and other large organisations may be making decisions which will put their hometowns under additional pressure.
"After the disappearance of many big names such as Woolworths, we know that the future of our high streets can't rely exclusively on retail.
"We need to make locating in small towns and high streets more attractive and affordable for large and small, public and private bodies alike."
He added: "We recognise that many of these towns are looking at new ways to reinvigorate their local economies and drive footfall into their centres, and schemes like the Small Business Bonus continue to give local traders a real boost.
"However, the public servants tasked with turning our high streets around are being undermined by their colleagues in other bodies looking to rationalise their estate.
"Similarly, banks will not improve relations with small businesses by closing branches."
Action Plan
Responding to the report, a Scottish government spokeswoman said: "Last year Local Government Minister Derek Mackay launched the Town Centre Action Plan, a cross-government response to the independent National Review of Town Centres.
"The review recognised that the role of town centres has changed and that the best way to support retail and other businesses in town centres is to diversify use by weaving more footfall-generating activity around them.
"This includes leisure, culture, housing and community activity and the Action Plan reflects this aspiration."
She added: "As part of the Action Plan we have expanded Fresh Start - our rates relief scheme for new businesses - to include pubs, hotels and restaurants and increasing the thresholds for the scheme.
"We have also allocated £2m towards a housing fund to bring empty properties back into use as homes."