Optimism among manufacturers 'at new high'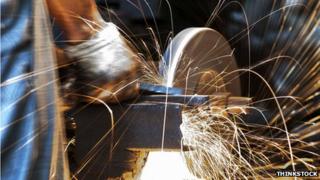 Confidence among Scottish manufacturers has risen to a new high as growth in the eurozone helped boost export orders last month, according to a new survey.
The latest Business Trends report by business advisers BDO found a strengthening in manufacturers' growth prospects for the rest of 2014.
Confidence within the sector rose to a record high for the survey.
BDO said it was a sign the economy was "rebalancing away from its reliance on the services sector".
Its optimism index pointed towards continued strong business performance in both manufacturing and services over the next six months.
BDO's output index, which predicts short-run growth expectations, also rose as a result of a lift in manufacturing.
In comparison, the services sector index has remained flat since the beginning of the year, albeit at a level which indicates strong growth expectations.
Hiring intentions by businesses showed another large rise in April, according to the survey.
On a more cautionary note, BDO's inflation index suggested businesses are preparing themselves for upward pressure on prices.
'Rebalancing economy'
Martin Gill partner, head of BDO in Scotland, said: "High growth expectations among manufacturers is a key highlight of this phase of the recovery, with a stronger manufacturing sector set to benefit Scotland in the long term by rebalancing our economy away from London and the City.
"However, manufacturing is still some way off its pre-crisis peak and confidence in the sector has proved to be volatile in the recent past, impacting negatively on investment and hiring decisions.
"One current issue is the exchange rate, and the Bank of England has stated that further appreciation in the value of sterling would be unwelcome. 
"It will be interesting to see what the Bank can do to prevent this, although the large current account deficit may prove to be a drag on the pound as we go through the year."