Scottish independence: Lady Susan Rice among fiscal body nominations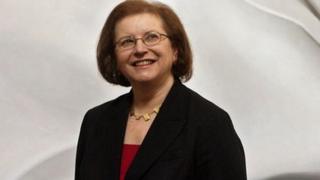 The former chairman and chief executive of Lloyds TSB Scotland could become the head of a new body being set up to scrutinise Scottish government tax forecasts.
Lady Susan Rice, who was the first female to lead a UK clearing bank, has been proposed as chairwoman of the independent Scottish Fiscal Commission.
She was nominated by Finance Secretary John Swinney.
Appointments to the commission have to be approved by the Scottish Parliament.
Lady Susan is a member of the first minister's Council of Economic Advisers.
In 2012 she became the first woman to be appointed president of the Scottish Council for Development and Industry. She is currently managing director of Lloyds Banking Group Scotland.
Two others have been nominated as members of the new commission.
One is Prof Andrew Hughes Hallet, a member of the Council of Economic Advisers, who has acted as a consultant to the World Bank, the IMF, the US Federal Reserve Board, the UN, the OECD and the European Commission.
The other is Prof Campbell Leith, an expert in macroeconomics based at Glasgow University.
Mr Swinney had already revealed that the Scottish Fiscal Commission would be staffed by three unpaid, part-time experts.
'Important milestone'
Mr Swinney said: "The creation of an independent Scottish Fiscal Commission is another important milestone in the journey to enhance Scotland's fiscal powers and I am delighted that such high-calibre people have agreed to be nominated as members.
"The Scottish Fiscal Commission will provide impartial and expert public scrutiny of the Scottish government's tax forecasts, and so provide the parliament and the public with assurance on their integrity.
"This is important because these tax receipts will fund a proportion of public spending in Scotland from 2015-16.
"We need to get the forecasts right and the work of the commission will help ensure that happens."
To help ensure its independence, the commission will not use Scottish government officials for its analysis.
As part of its work, the commission will look at expected income from the new Scottish landfill tax and the new land and buildings transaction tax, which replaces stamp duty.
The power to collect the charges was devolved to MSPs as part of the Scotland Act 2012 but it does not come into force until April next year.
Further powers to collect a Scottish rate of income tax are coming to Holyrood in April 2016.
The commission, which will be set up in the summer, is also expected to provide assurances on forecasts before the draft budget for 2015-16 is published this autumn.