Maersk Oil: Major gas field plans move forward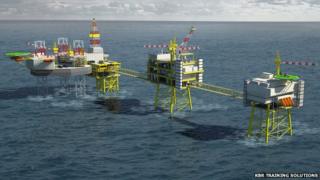 Plans to develop a major gas discovery in the North Sea have taken a step forward after Maersk Oil UK announced details of a new stand-alone facility for the Culzean field.
The bridge-linked complex will include a wellhead platform, central processing facility and living quarters.
KBR London has been selected as front end engineering design (Feed) contractor for the facility.
Overall investment in the project is expected to be more than £3bn.
Culzean is an ultra-high-pressure, high-temperature field located about 145 miles east of Aberdeen.
The new facility will support production of the Culzean discovery and is expected to serve as a hub for a new development cluster in the surrounding area.
Phased installation
Subject to a final investment decision in 2015, a phased installation of the facilities will begin in 2016.
If successfully developed, the field is expected to provide about 5% of the UK's total gas consumption by 2020/21.
First gas from the project is currently expected in 2019.
Danish-owned Maersk is the field operator, with a 49.99% stake, while JX Nippon and Britoil (BP) are co-venturers.
Maersk Oil UK managing director Martin Rune Pederson said: "We're pleased to make this announcement today, which means the project is progressing as planned.
"Culzean is a key growth project for Maersk Oil, but can also be an important new resource for the UK in terms of its potential to support energy security and employment."
He added: "We also hope and expect that these new facilities will not only support production of the Culzean discovery, but serve as a hub for a new development cluster in the surrounding region.
"In this way, the development can play its part in maximising recovery from the UK Continental Shelf."