Scottish shopper numbers 'continue to rise'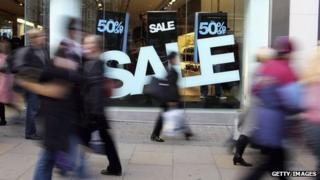 Scotland's retailers were more successful in drawing in shoppers last month than the UK as a whole, according to industry figures.
The Scottish Retail Consortium (SRC) said footfall in May was 0.6% up on a year ago, compared with a -0.2% fall recorded for the UK.
However, the Scottish figure was lower than the 5.2% rise seen in April.
Last month's figures were lifted by a strong performance by Scottish retail parks, which saw footfall up by 9.4%.
But the high streets performed poorly, with a drop in shopper numbers of 3.1%. The fall was attributed to wet weather.
Northern Ireland experienced the greatest rise in footfall in the UK, reporting a 9.2% increase on last year.
'Promising results'
David Lonsdale, from SRC, said: "This is a further promising set of results.
"For the second month in a row the number of shoppers visiting Scotland's high streets is above the level witnessed during the same period last year, and outstripped that of the UK as a whole in May.
"While footfall growth last month didn't match the giddy heights attained in April, retailers will be relieved that their efforts to attract shoppers through new ranges, pricing and promotions is having an effect.
"With the Scottish sales figures out later this month, retailers will be hoping that the spike in shopper numbers has translated into more transactions and an actual increase in sales."