Weir Group scores on credit rating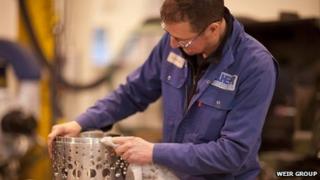 Weir Group has secured public credit ratings from two agencies to "expand the range of financing options" available to it.
The Glasgow-based engineering firm was rated BBB+ (stable) by Standard & Poor's and Baa1 (stable) by Moody's.
In a separate statement, the group said trading was in line with expectations.
Weir has made a number of acquisitions in recent years but recently dropped an attempt to take over Finnish firm, Metso.
In its trading update, Weir said its Oil & Gas division continued to benefit "from strengthening pressure pumping market trends while mining end markets remained challenging".
It said it was impacted by the ongoing platinum mine strikes in South Africa.
What it described as "foreign currency headwinds" had "strengthened" over the first half of this year which meant that revenue and profit would be more weighted towards the second half of 2014.