Etihad Airways to launch first route from Scotland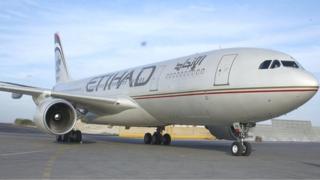 Etihad Airways has announced that it is to launch its first service from Scotland next year.
The national airline of the United Arab Emirates will start a direct daily flight from Edinburgh to its home base of Abu Dhabi.
The service will launch in June, using an Airbus A330-200 aircraft.
Etihad said the new route would allow passengers and cargo from Scotland to connect to destinations across the Gulf region, Asia, Australia and Africa.
Edinburgh is Etihad's first Scottish destination, and its third departure point from the UK.
It currently offers triple-daily flights from London, and double-daily flights from Manchester.
'Convenient connections'
James Hogan, president and chief executive of Etihad Airways, said: "Scotland has been on our radar for some time and we are delighted that the first direct connection between its capital, Edinburgh, and the capital of the UAE, Abu Dhabi, will be operational from next year.
"The two cities share strong tourism links and the UAE is Scotland's primary trade partner in the Gulf region, which will fuel strong demand among business and leisure travellers on our non-stop service.
"Travellers will also benefit from convenient connections to many other destinations, both on our own global network and through our relationships with other airlines."
Etihad Airways has indicated that it will launch a second service from Scotland to Abu Dhabi in five years' time.
Scotland's Transport Minister, Keith Brown, said: "This new route between Edinburgh and Abu Dhabi is fantastic news for Scotland, building on our already strong links with the United Arab Emirates and providing a major boost to our international connectivity.
"By removing the need for extra connecting flights, we make Scotland a more attractive place to do business and make it even easier for visitors from around the globe to come and taste the fantastic tourist experience we have to offer."