New car sales 'on track for record year'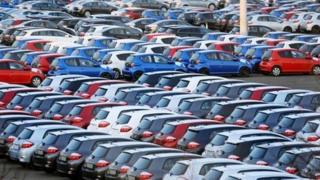 Scotland is on track for a record year in new car sales, according to motor traders.
Industry figures showed there were 14,403 new registrations in July - nearly 8.7% up on a year ago.
The UK as a whole experienced an increase of just under 6.6%, with 172,907 units.
The Scottish Motor Trade Association (SMTA) said it was possible sales north of the border could reach 220,000 by the end of the year.
The best selling car in Scotland last month was the Vauxhall Corsa, followed by the Ford Fiesta and then the Ford Focus.
SMTA chief executive Douglas Robertson said: "We are very pleased to see an increase of this size in July.
"Our feeling was that the market was starting to stabilise and we had anticipated no more than a 5% increase this month.
"We are obviously very pleased to have exceeded this and we remain close to 10% up for the first seven months of the year."
He added: "Looking ahead it is possible that sales could reach 220,000 by the end of the year.
"This would be 7.5% ahead of 2013 and a record for new car sales in Scotland. Bearing in mind we are currently close to 10% ahead, this might just happen."