Ofcom report: Smartphone take-up in Scotland 'rises sharply'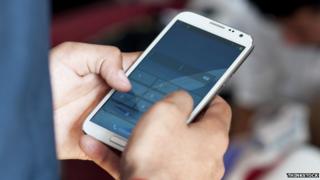 Scots are taking up smartphones at a faster rate than any other UK nation, according to Ofcom.
The regulator's 2014 Communications Market Report found take-up rose by 17% in a year to 62%, just ahead of the UK average.
It also found people in Scotland spent more time on media and communications than other UK nations.
They spent 11 hours and 41 minutes per day, compared with the UK average of 11 hours and seven minutes.
Scots spent 39% of their daily media and communications time watching TV on a TV set - marginally higher than the UK average of 37%.
One-tenth of media time was spent using a radio.
Of the three devolved nations, Scotland had the highest proportion of adults using the television to keep up with national Scottish news.
In 2013, 80% of 500 Scottish respondents cited television as their main source of national news.
The report also found that the tablet computer grew in popularity in Scotland.
By the beginning of 2014, 42% of households owned a tablet, such as an iPad or Kindle Fire - an 18% annual increase.
Meanwhile, broadband take-up rose by 6% in a year to 76% - just below the UK average of 77%.
The take-up of broadband in Glasgow increased substantially over the year.
'Marked change'
The percentage of Glaswegians living in households with broadband - excluding mobile devices - is now 63%, and 66% if mobile devices are included.
This compares with 50% and 54% respectively last year.
According to the regulator, eight in 10 homes in Scotland now have internet access - in line with the UK average of 81%.
The use of mobiles to access the internet increased by 12% - the biggest increase of the UK nations - bringing Scotland almost level with the UK figure of 57%.
Vicki Nash, director of Ofcom (Scotland), said: "Scotland is now keeping up the rest of the UK in the take-up and use of communications services and devices, and in fact in some areas we are ahead of the UK average.
"This is a marked change from the past when we were less prolific users."