Fashion retailer M&Co returns to profit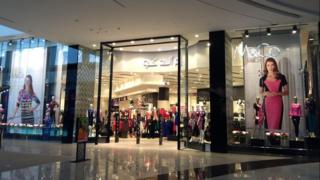 Fashion retailer M&Co has said it is on track to return to profit levels seen in past years after reporting an "improved" trading performance.
The Renfrewshire-based business posted a pre-tax profit of £2m in the year to February.
That compared with a loss of more than £2.3m the previous year.
Sales fell by 6.3% from 2012/13, which the Inchinnan-based group said was due to the closure of 19 unprofitable stores.
Net turnover was £158.3m, down from about £169m in the previous year.
However, M&Co said product margins were significantly higher as a result of its strategy of buying less stock and achieving more profitable sales by reducing mark-downs.
During the year the retailer, which has 260 UK stores, opened nine franchise stores in the Middle East, Bulgaria and Malta.
The group said sales this year to date had been "encouraging" and it intended to expand the format into further unspecified sites.
M&Co chairman Iain McGeoch said: "In the current financial year, our improved performance has continued and our year-to-date operating profit is ahead of 2013/14, with a further reduction in net debt.
"We have continued to make significant progress in transforming M&Co into a 'best in class' international omni-channel fashion retailer in line with our strategy introduced 12 months ago."