Oil States announces plans for 100 West Lothian jobs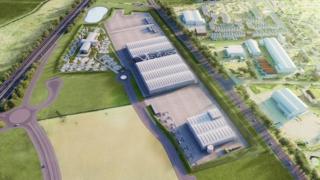 Aberdeen-based oil and gas services company Oil States has announced plans to create 100 new jobs in West Lothian.
The firm is looking to recruit a range of staff including welders, machinists, inspectors and technicians at its new facility at Heartlands Business Park.
The premises, which is currently under construction, will be used for engineering research and development.
It will also manufacture, service and repair heavy steel components for the global offshore oil and gas industry.
A total of 80 staff from Oil States' nearby Bathgate facility are expected to transfer over to the new premises at the beginning of next year.
Pool of talent
Once the recruitment process is complete, the Heartlands facility will house more than 200 staff.
Oil States UK managing director Garry Stephen said: "A key driver in our decision to relocate certain parts of the business from Aberdeen to central Scotland was access to a wider pool of talent and its prime location between Edinburgh and Glasgow.
"Oil States' presence in the UK is growing and this commitment to create 100 new jobs in the Bathgate area will give successful applicants the opportunity to work with a global organisation at the start of an exciting period of growth for the company."
Applications are now open to new candidates as well as those with existing roles at the company's Aberdeen facility.
Oil States is a subsidiary of Oil States International, which has its headquarters in Texas.