AG Barr signs deal with Dr Pepper Snapple Group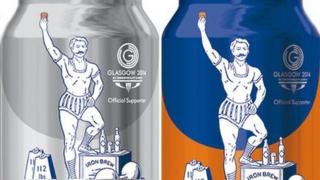 The fizzy drinks maker, AG Barr, has signed a 10-year deal to sell, market and distribute the Snapple brand in the UK and some of Europe.
The announcement came as the group announced a 15% increase in half year profits to £19m.
The company, whose main brand is Irn Bru, said it had continued to outperform in the soft drinks market.
It said its marketing campaign during the Commonwealth Games had bolstered its performance.
The Cumbernauld-based firm counts Rockstar, Strathmore water, Rubicon and Tizer among its products.
It said total revenue for the six months to 27 July increased by 5.4% to £136m.
The company said the Glasgow 2014 Commonwealth Games "provided us with a great platform for much of our brand building actions across our portfolio of core brands - Irn-Bru, Rubicon, Barr and Strathmore.
"We not only provided all of the venues and athletes with these brands on an exclusive basis but Strathmore was also highly visible on the 'field of play' across all of the Games venues."
The 10-year agreement with America's Dr Pepper Snapple Group (DPSG) will begin in January 2015. The Scottish firm did not put a value on the deal.
It means AG Barr has exclusive rights to sell and market the brands across the UK and in some parts of Europe where Snapple is not available.
DPSG is one of the leading soft drinks maker in the United States with more than 50 brands including Dr Pepper, 7 UP and Snapple iced teas.
The Chief Executive of the group, Roger White, said: "We are very excited about our new partnership with DPSG. Snapple is an authentic, high quality brand that is very successful in the United States and we strongly believe in the significant potential of Snapple in Europe."
DPSG's Senior Vice President, International, Andrew Bayfield said: "We see an opportunity to build Snapple in Europe over the long-term. AG Barr has the capabilities to help unlock the potential of the brand in those markets, and we're looking forward to working with them."