BDO report: Action 'needed' to help mid-sized firms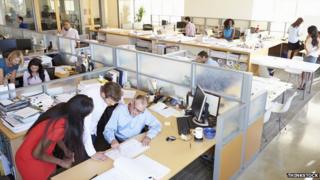 Government action is needed to help boost Scotland's "under-valued" mid-sized businesses, a report has claimed.
Accountancy firm BDO found medium-sized firms accounted for less than 1% of all companies - but create more than a fifth of all private-sector jobs.
It said more could be done to help them expand their operations, allowing them to create more jobs and revenue.
The Scottish government said it was committed to supporting businesses, including medium-sized firms.
BDO analysed more than 2,000 businesses in Scotland with a turnover of between £10m and £300m a year, and found they contributed £66bn in value to the economy and provided jobs for 439,000 people.
The accountancy firm argued that medium-sized firms were too large to benefit from policies which were tailored at small businesses, but too small to attract the same attention as the largest firms.
'Under-valued'
Martin Gill, head of BDO in Scotland, said: "Without a shadow of a doubt Scotland's mid-market is under-valued and too often over-looked.
"Mid-sized firms contribute a remarkable amount to GDP and jobs, and what's exciting is that with the right support these businesses have the potential to deliver even more for our regional economy.
"The government has done a good job at promoting the general needs of business but more can be done to help mid-sized firms specifically."
The report called for the UK tax system to be reformed, to encourage mid-sized firms to plan for the long-term.
It also suggested more could be done to reduce the overseas tax barriers for UK firms.
'Consistent support'
A Scottish government spokeswoman said: "The Scottish government is committed to supporting businesses. A key part of this is ensuring businesses can access good quality, consistent business support both to help them start up and to help them grow.
"Our enterprise agencies work closely with companies of all sizes, including medium-sized businesses, and almost half of all businesses' accounts managed by Scottish Enterprise are medium-sized.
"This account-managed process is of especial value to mid-range high-growth companies that BDO precisely identified.
"All Scottish businesses benefit from our commitment to match the English business rates tax rate, known as the poundage.
"In addition, our Fresh Start rates relief scheme gives one year of 50% business rates relief to businesses who take on certain long-term empty premises and rejuvenate our high streets."