Oil industry 'needs to cut costs even if it means job losses'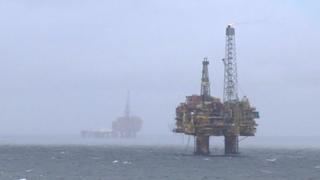 The oil and gas industry must do more to cut costs even if it means more job losses, it has been claimed.
Industry body Oil and Gas UK's annual economic report said operating costs were 60% higher than three years ago while oil prices were falling.
There have already been substantial layoffs at companies this year.
Shell UK announced 250 onshore jobs cuts from its North Sea operation in Aberdeen in August, after Chevron announced 225 in July.
Oil and Gas UK's chief executive Malcolm Webb said: "This country depends on oil and gas for some 70% of our primary energy needs and oil and gas from the UK offshore areas supply nearly 50% of that.
"Our industry has a crucial role to play in the future wellbeing of this country.
"To support a lasting and sustainable future, today we're calling for greater collaboration - between governments, between government and industry and within industry itself to face and fight the challenges ahead."
---
By Douglas Fraser, BBC Scotland business editor
Oil and gas burned furiously through the independence referendum campaign. Quite a lot was said by people on both sides who should have known better.
It's now the subject of a conspiracy theory suggesting vast reservoirs were being hidden from voters.
Oil and Gas UK, the industry body, has just published its annual economic report, which seeks to do several things. One of them appears to be an attempt to calm things down a bit, with a sober assessment of what's left and what it will take to extract it.
---
Mr Webb said: "Full implementation of Sir Ian Wood's recommendations for regulatory reform, and far-sighted changes to the fiscal regime, are needed in the next 12 to 18 months to stimulate new investment in exploration and production.
"Alongside this, the industry must improve its efficiency and reduce its costs as a matter of utmost urgency."