Scotland's economy expands by 0.9%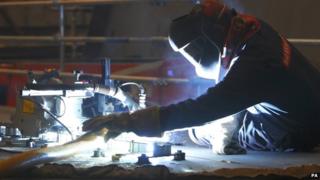 Scotland's economy grew by 0.9% during the second quarter of 2014, according to new statistics.
On an annual basis, GDP (Gross Domestic Product) grew by 2.6% compared with the same period last year.
The services sector, which accounts for nearly three-quarters of the economy, grew by 0.9% in the latest period.
Figures released by Scottish government statisticians also showed that the production sector expanded by 0.3%, while construction output grew by 3.6%.
'Healthier balance'
The Scottish Chambers of Commerce (SCC) welcomed the data for the second quarter of this year.
SCC chief executive Liz Cameron said: "Scotland's economy has now grown for eight consecutive quarters and our growth rates in 2014 so far have been equal to or higher than those of the UK as a whole.
"We are also beginning to see evidence, confirmed by the International Monetary Fund last week, that our economy is achieving a healthier balance between growth led by consumer demand and growth led by business investment.
"Expectations are that the rate of growth we have experienced in the first six months of the year may not quite be replicated in the second half of the year, but nonetheless this latest rise in GDP is an extremely positive sign that the Scottish economy has the potential to sustain growth over the medium term."
Data analysis
Analysis of the figures by Public Finance Scotland, a new economic research centre, pointed to Scottish GDP being 1.1% higher than it was at its previous peak in the second quarter of 2008. UK output is now 4% higher than its peak in the first quarter of 2008.
Population has been growing during that time, and the per capita figure gives a better idea of what has happened to average living standards. On that count, Scottish output is 1.7% lower than its previous peak, and UK GDP per head is 1.8% lower.
The recovery, for Scotland and the UK, has been strongest in the large business services category, followed by real estate.
The health sector has been a significant growth sector in the rest of the UK, up 18%, but by only 4% in Scotland.
John McLaren, of Public Finance Scotland, said: "Scotland's economy continues to improve in terms of both higher output and employment.
"Although Scotland's economy is not growing as fast as the UK, once adjusted for population growth then it is performing just as well.
"However, Scotland's labour market performance, while improving, has not yet regained its previous peak, while the UK's has."