John Menzies shares drop on aviation unit profit warning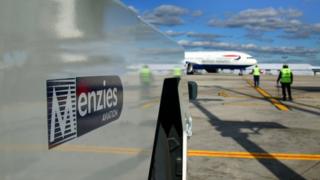 Shares in John Menzies have plummeted after the company issued a profits warning on its aviation unit and announced the immediate departure of the division's boss.
The Edinburgh-based firm said full-year profit from its aviation business would be "materially" below expectations.
It added it was managing a "number of challenges" which were affecting its ground handling business in the UK.
By close of trading on Wednesday, its share price was down 28% at 350p.
In an interim management statement, the company said Menzies Aviation managing director Craig Smyth would leave the board with immediate effect.
Mr Smyth resigned in August but the date of his departure had not been previously announced.
Menzies Aviation undertakes aircraft refuelling, cargo and baggage handling at airports worldwide, as well as aircraft de-icing and other services.
John Menzies' other main arm focuses on newspaper and magazine distribution.
Margins 'reduced'
In its statement, the group said it had secured new ground handling business in North America, which had been partly offset by contract losses in Colombia.
But it warned that "significant changes" at Heathrow had substantially reduced margins, which would continue into next year.
In August, John Menzies said it was "suffering" at the London airport after British Airways accelerated its move from Terminal One to Terminal Five, resulting in loss of business for the aviation wing.
The group said its distribution unit continued "to deliver to plan", but added: "Over the coming months the new group executive team will be addressing the current areas of under-performance in Aviation and will be reviewing strategic, operational and investment plans to better leverage from the strong market growth dynamics and opportunities."