Scottish private sector business numbers fall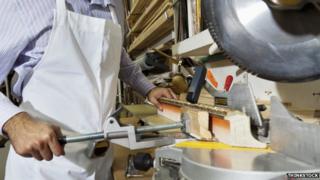 The number of private sector businesses operating in Scotland has fallen for the first time in eight years, new figures have revealed.
Scottish government statisticians said just over 335,000 enterprises were running in March - a fall of 2.4% on the same period last year.
It was the first annual drop in total business stock since 2006.
Officials attributed the decrease to a fall in the number of unregistered businesses.
They comprise the smallest sole traders and partnerships that are not registered for VAT/PAYE.
Their numbers were down by 8% - from 183,055 in 2013 to 168,490.
However, the number of registered businesses increased by 4% to 166,525 in 2014 - its highest level since 2000.
As at March, there were 332,720 small and medium-sized enterprises (SMEs) operating in Scotland, providing an estimated 1.1 million jobs.
SMEs accounted for 99.3% of all private sector enterprises. They also accounted for 54.8% of private sector employment and 37.9% of turnover.