Bafta winner Tommy Gormley backs Scottish film studio calls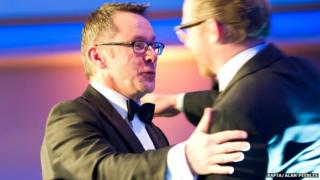 A Bafta award-winning director is backing calls for a dedicated film studio to be established in Scotland.
Tommy Gormley, who is a leading first assistant director, said a studio could draw some of Hollywood's top talent.
He will support calls for a Scottish film studio when he meets students from the University of the West of Scotland's Ayr campus this week.
The Glaswegian picked up an outstanding contribution to craft award at the Scottish Bafta ceremony on Sunday.
His Hollywood credits include two Star Trek films and the much-anticipated Star Wars: Episode VII.
Speaking ahead of his visit to Ayr, he said: "Scotland is full of talented individuals and is blessed with being one of the most visually stunning countries in the world.
"It has incredible culture, varied architecture and spectacular scenery, making it an ideal filming location.
'Huge potential'
"Alan Cumming, Mark Millar, Brian Cox, Sean Connery, Billy Connolly, Lynne Ramsay and Ewan McGregor are some fine examples of Scottish talent behind and in front of the camera who have dominated Hollywood in recent years - and that's without a dedicated film studio.
"More and more, the larger studios are looking away from Hollywood and Scotland is ideally placed to take advantage of this, with the correct investment.
"There is huge potential here, but other similar sized nations already have studio facilities so it's important that action is taken now to seize these opportunities."
Prof Nick Higgins, director of the University of the West of Scotland's Creative Media Academy, is among those backing plans to build a dedicated film and television studio at Pacific Quay in Glasgow.
He said: "It is now clearly evident that Scotland could and should have a studio and if professionals as respected in the industry as Tommy believe it would be a success and stimulate the Scottish film industry, people should sit up and take notice."