Wave Energy Scotland body set up to 'accelerate' development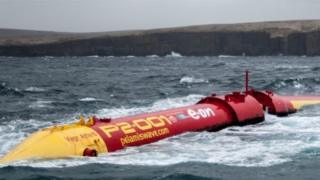 A new body to encourage innovation in the wave energy industry is to be set up by the Scottish government.
The announcement came the day after wave power technology firm Pelamis said it was calling in administrators after failing to secure development funding.
Energy Minister Fergus Ewing said Wave Energy Scotland would bring together the sector's best engineering and academic minds.
The aim is to speed up development and encourage private investment.
Mr Ewing is expected to give further details during a statement to the Scottish Parliament next week.
Edinburgh-based firm Pelamis announced it was calling in administrators KPMG on Friday.
'Hampered by uncertainty'
The company has been testing its wave energy converters at the European Marine Energy Centre (EMEC) in Orkney for a number of years but said it had been unable to secure the additional funding required for further development.
The announcement of the new technology development body did not directly refer to Pelamis.
However, it said that ministers recognised that early stage technologies, such as wave energy, can take time to flourish.
The development of wave energy has also been hampered by uncertainty facing the energy sector more widely, it added.
Ministers claimed that despite "generous support" for the sector from the Scottish government the lack of private capital had seriously hampered the progress of both wave and tidal energy developers.
Mr Ewing said: "This is a young industry and we still have a lot of learning to do in marine renewables.
"We want to encourage further innovation in wave energy development and we recognise the need for a bold new approach to supporting this emerging technology.
"There is also a lack of design convergence in wave energy with many different concepts in development, while tidal appears to be converging on a front-runner design."
He added: "With Wave Energy Scotland, we are proposing a fresh and collaborative way to accelerate wave technology development.
"The best minds in industry and academia will work together to develop technologies that can be commercialised by the private sector."
'Crucial support'
Industry body Scottish Renewables welcomed the creation of the new body.
Senior policy manager Lindsay Leask said: "Capturing wave energy is a complex and demanding process, and although the sector is still in its infancy Scotland can rightly be said to hold a world lead in the development of this cutting-edge technology.
"The Scottish government should be applauded for the creation of Wave Energy Scotland, which will provide crucial support to the home-grown Scottish companies who dominate the sector and allow collaboration on key shared engineering issues.
"Friday's announcement that Pelamis Wave Power had entered administration is an indication just how challenging extracting energy from the waves can be, and demonstrates how important collaborative schemes like Wave Energy Scotland will be to reaping the potential huge green energy benefits of our oceans in the future."